[E. Winnie Burnand, one of the earliest female cartoonists.] Two amusing original caricatures of herself, one posting a letter, the other carrying a cricket bat, in an effusive letter to theatre historian W. Macqueen-Pope.
Author:
E. Winnie Burnand [Edith Winifred Burnand, latterly Parsons] (b.1881), one of the earliest female cartoonists, daughter of Sir Francis Cowley Burnand, editor of 'Punch' [W. Macqueen-Pope (1888-1960)]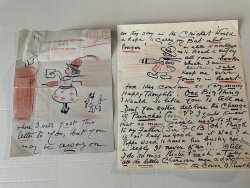 Publication details:
23 August 1957. On letterhead of Crossway Green, Chepstow, Mon. SEE IMAGE.
SKU: 24563
From the Macqueen-Pope papers. (See his entry and that of her father in the Oxford DNB.) 6pp, the first four on two 4to leaves, the last two on a 12mo leaf. Signed 'E. Winnie Parsons / nee / Winnie Burnand'. In fair condition, lightly aged and with some creasing, particularly to the last (12mo) leaf. Slight rust staining from paperclip. A delightful letter, written in a strong and energetic hand, with various words underlined in red pencil for emphasis. She is staying with Desmond Lysart, 'who in his lovely study has all your delightful books', and they are both great admirers of MP. She describes herself as 'the youngest of Sir F C Burnand's family of 14 (a mere girl of 76) but still "Not Out" as they say in the Cricket World & hope to Carry my bat a bit longer! (Here she has drawn an amusing ink cartoon, picked out in red pencil, of her walking purposefully to the left with a cricket bat under her arm.) 'One Big Thing I would so like you to tell me / Dont you rather deplore the Change of Punche's [sic] Cover?? I quite know that so many people used to say to my Father (Sir F C B) Oh! Punch is not half as good as it was? & Poppa used to raise his bushy eye-brows & reply It never was!!... Still I do so miss Mister Punch & Toby & "All the little Charavari men adorning the cover of Punch"'. She continues with her lament, ending in large letters, 'I consider Punche's [sic] well known Cover is a National Loss!!!.....' She thanks him for the references to her father and her mother, 'Rosina Ranoe': 'I wonder if you ever knew her when she was on the stage? She gave it all up!!! to marry Papa & bring up our Family of 14!!!! & oh! happy we hae all been, entirely due to Mother & Papa's devotion to Real Home Life! But of course a family of 14!! these hectic days would not be fashionable!!!! in fact Not tolerated! I am so glad I lived in the days of the "Gaiety" for enchantment!!!' Her 'host & hostess (your great admirers) have a charming country House, & Desmond Lysart owns Chepstow Castle!' She is leaving for London, where she will post the letter. (Here, taking up half of one page of the 12mo leaf, she draws herself looking rather doll-like as she advances with a parasol, feathered hat and polka-dotted dress towards a post box, letter in hand, and an eager little dog behind her.) She concludes with 'enormous thanks from a very sincere admirer'.
Keywords:
Phone enquries
RICHARD M. FORD
Tel: +44 7884 315 545