[Rollo Russell, meteorologist, son of Lord John Russell and uncle of Bertrand Russell.] Autograph Postcard Signed.
Author:
Rollo Russell [Francis Albert Rollo Russell] (1849-1914), meteorologist and scientific writer, son of Liberal Prime Minister Lord John Russell and uncle of philosopher Bertrand Russell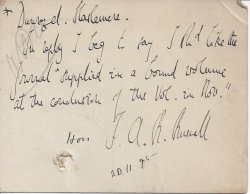 Publication details:
No date, but with Haslemere postmark of 8 May 1895. In autograph: 'Dunrozel. Haslemere.'
SKU: 24967
See his entry in the Oxford DNB. On 11.5 x 9 cm plain post card with printed half penny stamp. In fair condition, lightly aged, with dog eared corner and spike hole (through part of address on one side and blank space at bottom left on message side). Addressed by Russell to 'The Secretary / Society of Arts / John St / Adelphi / London / W.C.' Reads: 'Dunrozel, Haslemere. / In reply I beg to say I shd like the Journal "supplied in a bound volume at the conclusion of the Vol. in Nov." / J. A. R. Russell'. In contemporary hand (that of the secretary, no doubt) to the left of the signature 'Hon' and beneath it the date of reply: '20. 11 95'. See image.
Keywords:
Phone enquries
RICHARD M. FORD
Tel: +44 7884 315 545