['Général Revanche': Georges Ernest Jean-Marie Boulanger, French army officer and Minister of War.] Autograph Signature ('Gnl: Boulanger') on back of calling card.
Author:
General Boulanger [Georges Ernest Jean-Marie Boulanger (1837-1891)], French Minister of War, nicknamed Général Revanche because of his calls for the Franco-Prussian War to be avenged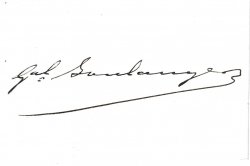 SKU: 25253
A nice item relating to a significant figure in French nineteenth-century history. Such was Boulanger's popularity with the French working classes in the late 1880s that it was believed that he could make himself dictator. Stylish and dynamic signature ('Genl: Boulanger'), on back of 9.5 x 6.5 cm calling card. In good condition, lightly aged. The words 'Général Boulanger' are printed in large letters on the front of the card, and nothing else. From the autograph album of the novelist George Meredith's daughter Marie Eveleen (Mariette; 1871-1933), later the wife of Henry Parkman Sturgis (1847-1929), American-born banker and Liberal politician. Probably acquired after Boulanger's flight to London in 1889. See image. Note: Extracted from an Album of Autograph Letters created by Meredith's daughter which included letters to George Meredith from distinguished fellow-writers (as here) such as Henry James, George Eliot but also from people of distinction (such as Wellington and Clemenceau) to other correspondents.
Keywords:
Phone enquries
RICHARD M. FORD
Tel: +44 7884 315 545