[The Royal General Theatrical Fund Association, London.] Three copies of drafts of an advertisement, composed by theatre historian W. Macqueen-Pope, with copy of covering letter to Secretary J. Mayhew Allen; and later corrected draft of circular.
Author:
Royal Theatrical Fund, London, for retired actors, founded 1839 with Charles Dickens as its first chairman [J. Mayhew Allen, Secretary]; W. Macqueen-Pope (1888-1960), theatre historian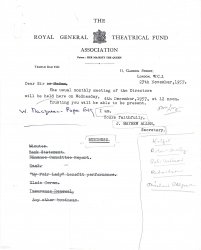 Publication details:
Copy of Macqueen-Pope's letter: 15 May 1953. Circular: 27 November 1957; on letterhead of the Royal General Theatrical Fund Association, 11 Garrick Street, London WC2.
SKU: 25354
See Wendy Trewin, 'The Royal General Theatrical Fund: a history, 1838-1988' (1989), and Macqueen-Pope's entry in the Oxford DNB. ONE: Carbon copy of letter from Macqueen-Pope to Allen, 15 May 1953, with three drafts of advertisement. 4pp, 4to. On four leaves. The letter, on the first page, is somewhat grubby, with rust spotting from paper clip, the other three leaves, each of which carries a proposed version of the advertisment, in good condition, lightly aged. The letter begins: 'Dear Jack Allen, / Herewith three rough samples for the proposed advertisement concerning the Fund. We should of course add the name of Leslie Henson as President, wherever you think best. I will try and knock out a few more. They are intended as basic ideas only and can be altered by the Board or discarded altogether.' He is 'down with a sharp attack of bronchitis' and is 'Not by any means out of the wood yet'. He believes the 'lack of new recruits' is because 'they do not think the Pensino good enough. People today think in very different terms of money to those we knew. And that I fear is our great problem.' One draft begins: 'You Belong to the / Most Precarious Profession in the World / You Cannot Do Anything about that / BUT / You Can Provide for Yourself and / Face the Future. [last word deleted and replaced in MP's autograph with 'Years to Come'] / That is the reason for / The Royal General Theatrical Fund / It is the Profession's Own Way of / Safeguarding the Future / Get into touch with the Secretary at / 11 Garrick Street. London W.C.2 / Phone / The Younger You Join the Less You Pay / And there is a Secured Income for you at Sixty / Not only that - you never lose what you have paid in. / Youth's A Thing Will Not Endure - so Shakespeare said / but / The Royal General Theatrical Fund will take care of / Your Old Age.' Another version begins 'You Are Young Now. Old Age Seems a Long Way off. / But is it? / You will be surprised how quietly and relentlessly it approaches. / Old Age is a serious thing to those who belong to / The Theatrical Profession.' It ends '[Pr]ivacy. Proficiency. Providence.' TWO: Corrected draft of circular, 27 November 1957. 1p, 4to. Typewritten letter, with list of 'BUSINESS.' Reads 'Dear Sir or Madam, / The usual monthly meeting of the Directors will be held here on Wednesday, 4th December, 1957, at 12 noon. / Trusting you will be able to be present, / I am, / Yours faithfully, / J. MAYHEW ALLEN, / Secretary.' The 'BUSINESS', which include ' "My Fair Lady" benefit performance' and 'Elsie Coram', have been deleted in pencil and replaced in MP's autograph with 'Wolfit / Robert [Ormsby?] / Peter Ustinov / Richardson / Michael Redgrave'. Above this is written 'Mrs Long'. After the body of the letter MP has written, in ink, 'W. Macqueen-Pope Esq'. See Image.
Keywords:
Phone enquries
RICHARD M. FORD
Tel: +44 7884 315 545