[St Thomas Lunatic Asylum near Exeter, founded in 1795.] Printed bill, filled out in manuscript, for sum due by 'Mr. Penny' for 'Board and Maintenance', with Signed Autograph Note of receipt by treasurer John Mackintosh, and note on annual accounts.
Author:
St Thomas Lunatic Asylum, near Exeter, founded in 1795 [John Mackintosh, Treasurer; James Penny, Exeter bookseller; William Seacombe]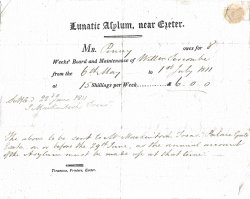 Publication details:
'Lunatic Asylum, near Exeter.' Made out for the period between 6 May and 1 July 1811. Slug: 'Trewmans, Printers, Exeter.'
SKU: 25361
An interesting piece of Exeter ephemera. See 'Besley's Exeter Directory for 1835': 'LUNATIC ASYLUM, St. Thomas. Founded in 1795. The expenses are defrayed by the board of patients whose friends can afford to pay for their maintenance, and by benefactions, legacies, &c.' (In the entry 'John Mackintosh' is still listed as treasurer.) 1p, landscape 12mo. Addressed by Mackintosh on reverse to 'Mr. James Penny / Bookseller / Fore St. / Exeter'. In fair condition, on aged and lightly-creased paper, with slight staining and damage from breaking open wafer. Beneath the heading 'Lunatic Asylum, near Exeter.' in gothic font, is the following (with manuscript text in square brackets): 'MR. [Penny] owes for [8] Weeks' Board and Maintenance of [William Seacombe] from the [6th. May] to [1st. July 1811] at [15] Shillings per Week..........£ [6 . 0 . 0]'. Beneath this is the receipt: 'Settled 22d. June 1811 / J Mackintosh Treasr'. And towards the bottom of the page, just above the slug: 'The above to be sent to Mr Mackintosh Treasr. Palace Gate Exeter, on or before the 29th June, as the annual account of the Asylum must be made up at that time. -' See Image.
Keywords:
Phone enquries
RICHARD M. FORD
Tel: +44 7884 315 545