[World War One: 'The Guns of August', 1914.] Silver gelatin negative photostatic print of typed British Government 'Aide Mémoire' on the German Army and Belgian neutrality, including copy of note by German Foreign Minister Gottlieb von Jagow.
Author:
[World War One: 'The Guns of August', 1914] Sir Edward Goschen (1847-1924), British Ambassador in Berlin [Gottlieb von Jagow (1863-1935), German Foreign Minister]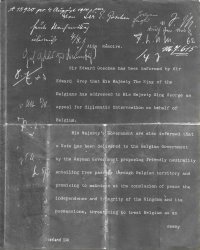 Publication details:
A photographic copy (made in the 1920s or contemporary?) of: ONE: Goschen's 'Aide Mémoire' dated 'BERLIN, August 4, 1914.' TWO: Von Jagow's manuscript note, 'Berlin, den 5. 8 1914.' [5 August 1914]
SKU: 25437
Silver gelatin negative photostatic print of two documents: 3pp, 4to (i.e. each of the three pages on 19.5 x 24 cm. leaf). The first page of Goschen's two-page 'Aide Mémoire' on a separate leaf, and the second page and von Jagow's note on different leaves of a bifolium. In good condition, lightly aged. N.B. The entire item is a photostatic copy. Reproduced at the head and down the left margin of the first page of Goschen's text are manuscript notes in German (including at top left: A15930 pr. 4. August 1914 pm. / Von Sir E. Goschen / heute Nachmittag überprüft / 4/8 J.), and the copy also includes at the foot of this page a clue regarding the source: the typed words 'Russland 104'. Goschen's typed text (unsigned) begins: 'Aide Mémoire / Sir Edward Goschen has been informed by Sir Edward Grey [the British Foreign Minister] that His Majesty the King of the Belgians has addressed to His Majesty King George an appeal for diplomatic intervention on behalf of Belgium.' The well-known text explains that the German government's proposal of 'friendly neutrality entailing free passage through Belgian territory [...] has been categorically refused by Belgium as a flagrant violation of the Law of Nations'. The British government ask for 'an assurance that the demand made upon Belgium will not be proceeded with', and 'Sir Edward Goschen is instructed to ask for an immediate reply.' Von Jagow's note reads: 'Ich habe Sir E. Goschen geantwortet, daß wir die belgische Neutralität aus Nothwehr hätten verletzen müssen, ich habe alle unsere zwingenden Gründe auseinandergesetzt und alle in London abgegebenen Versicherungen nochmals wiederholt. / Jagow.' See Image.
Keywords:
Phone enquries
RICHARD M. FORD
Tel: +44 7884 315 545