Folio broadside ballad, illustrated with woodcut, entitled 'Patient Joe, or the Newcastle Collier.'
Author:
Z.' [Hannah More] [the Cheap Repository for Religious and Moral Tracts]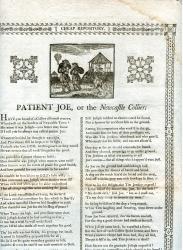 Publication details:
Undated [circa 1795]. 'Sold by S. HAZARD, (PRINTER to the CHEAP REPOSITORY for Religious and Moral Tracts) at BATH; By J. MARSHALL, PRINTER to the CHEAP REPOSITORY, [...] and R. WHITE, Piccadilly, LONDON [...]'
SKU: 7095
On one side of a piece of laid paper, 45 x 27 cm. Dimensions of printing, including decorative border, 37 x 21.5 cm. Woodcut at head (between two vignettes) roughly 6 x 7.5 cm, showing two men with packs, one smoking a pipe, trudging across a field, with a dog in the foreground and what looks like a merry-go-round in the background. Clear and entire. With light water staining, but in good condition overall. The poem, attributed at the end to 'Z.' and announced as 'Entered at STATIONERS HALL', consists of seventy-two lines arranged in eighteen four-line stanzas over two columns. Employing the long s. Five-line printer's slug ends by stating that the ballad is sold ' by all Booksellers, Newsmen, and Hawkers, in Town and Country. | Great Allowance will be made to Shopkeepers and Hawkers. | Price an Half-penny, or 2s. 3d. a 100. - 1s. 3d. for 50. - 9d. for 25.' The story concerns Patient Joe, who in his trouble always 'bow'd to GOD's holy will', and avoids death when his pit falls in, killing 'idle Tim Jenkins, who drank and who gam'd, | Who mock'd at his Bible, and was not asham'd'. Begins 'HAVE you heard of a Collier of honest renown, | Who dwelt on the borders of Newcastle Town?' Scarce: COPAC only lists copies at the British LIbrary, the Bodleian, Manchester, Durham and the Women's Library.
Phone enquries
RICHARD M. FORD
Tel: +44 7884 315 545