Handbill street ballad entitled 'Mr. Sopkin's Misadventures at Blackpool. (After Ingoldsby's Misadventures at Margate.)'
Author:
Samuel Laycock (1826-1893), Victorian Yorkshire dialect poet [nineteenth-century Blackpool]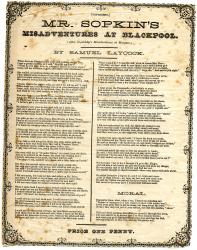 Publication details:
Publisher and date not stated.
SKU: 7394
At foot: 'PRICE ONE PENNY.' On one side of a piece of wove paper, roughly 220 x 170 mm. Enclosed within decorative border. Foxed and creased, with edges trimmed to edge of border. Thin strip of card mound adhering to one edge of reverse. Text clear and entire. Printed in two columns employing characteristically Victorian typography. Twenty-six four-line stanzas (the last two being the 'MORAL.'). Begins 'When down at Blackpool last July, and walking on the Pier, | I met a pretty maiden, so I said "How do my dear?" | "What do you here, love, by yourself? How is it you're alone? | Come, tell me all about it now, and where your sweetheart's gone." ' The woman is a confidence trickster, and the narrator loses his cane, hat and 'best cloth coat' before 'Detective Twig'em' is called in. No copy on COPAC or in the British Museum. The poem may have featured in earlier editions, but it was certainly collected in the third edition of Laycock's 'Warblin's fro' an Owd Songster' (Oldham, 1894).
Phone enquries
RICHARD M. FORD
Tel: +44 20 8993 1235