Typed Note Signed ('A. C. Fox-Davies') to H. S. Vade Walpole.
Author:
Arthur Charles Fox-Davies (1871-1928), English writer on heraldry, and Gold Staff Officer at the Coronation of King George V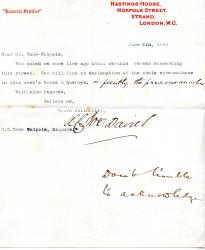 Publication details:
8 June 1899; on letterhead of Hastings House, Norfolk Street, Strand, London.
SKU: 7638
4to: 1 p. Good, on lightly aged and spotted paper. Regarding 'certain verses concerning this street', Walpole will 'find an explanation of the whole circumstance in this week's Notes & Queries'.
Phone enquries
RICHARD M. FORD
Tel: +44 20 8993 1235