Presentation copy of offprint of article: 'Divine Kingship in the Ancient Near East: A Review Article'.
Author:
Theodor H. Gaster [Theodor Herzl Gaster (1906-1992)], Anglo-American anthropologist, an authority in the field of comparative religion [Sir James Frazer]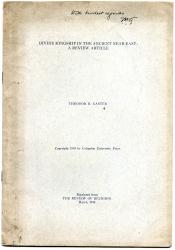 Publication details:
Copyright 1945 by Columbia University Press | Reprinted from THE REVIEW OF RELIGION March, 1945'.
SKU: 7870
8vo: 15 pp, paginated 267-281, In grey printed wraps. Inscribed by Gaster on front cover: 'With kindest regards | T. H. G.' Good, on lightly-aged paper, in grubby and lightly creased wraps.
Phone enquries
RICHARD M. FORD
Tel: +44 20 8993 1235