Autograph Note Signed ('D. Lysons.') to unnamed publisher.
Author:
Sir Daniel Lysons (1816-1898), English army officer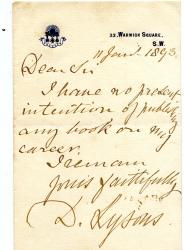 Publication details:
11 January 1893; on letterhead of 22 Warwick Square, London S.W.
SKU: 7948
12mo, 1 p. Good, on lightly-aged paper. Large bold signature. He has 'no present intention of publishing any book on [his] career'. It may be that the correspondence planted a seed, as three years after the writing of this note Lysons published 'Early Reminiscences' (John Murray, 1896).
Phone enquries
RICHARD M. FORD
Tel: +44 20 8993 1235