Autograph Letter Signed to 'Miss Lewis'.
Author:
Ludwig Straus (1835-1899), Austrian violinist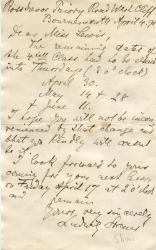 Publication details:
4 April 1891; Rosstrevor Priory Road West Cliff, Bournemouth.
SKU: 8322
12mo, 1 p. Good, on lightly-aged and ruckled paper. He explains that the 'remaining dates of the 4tett Class had to be alterered', given the alternatives. 'I hope you will not be inconvenienced by that change and that you kindly will assent to it.' He gives the date of her next lesson, to which he looks forward.
Phone enquries
RICHARD M. FORD
Tel: +44 20 8993 1235