Autograph Letter Signed ('Geo Sanderson') to Lowry.
Author:
George Sanderson (c.1835-1814), English mathematician [Wilson Lowry (1762-1824), engraver]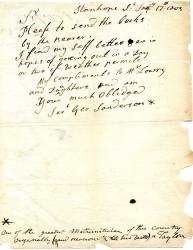 Publication details:
17 January 1803; Stanhope Street, London.
SKU: 9378
8vo, 1 p. Text clear and complete. On aged and creased paper, with chipping to extremities. Thin strip of stub adhering to reverse, which carries the address in Sanderson's hand: 'Mr: Lowry | No: 57 | Tichfield St:'. He asks him to 'send the Books by the Bearer. | I find my self better & am in hopes of goeing out in a Day or two if weather permits'. He concludes by sending his compliments to Lowry's wife and daughters. Docketed in a contemporary hand at foot of page: 'One of the greatest Mathematicians of this country | Originally (and occasionally till his Death) a Taylor'. Sanderson's trade is not mentioned in his obituary in the New Monthly Magazine, February 1814, pp.91-2, where he is said to have been indebted in his last years to 'the liberality and care of his friends, Sir John and Lady Walsh and Mr. Burgoyne, whose proficiency in mathematics had enabled them justly to appreciate his extraordinary talent and acquirements'. The obituary notes his acquaintance with 'Lauden, Todd, Maskelyne, Wales, Hutton, Dalby, and Bonnycastle'.
Phone enquries
RICHARD M. FORD
Tel: +44 20 8993 1235