Eight original silhouettes of eighteenth-century head and shoulder profiles of fashionable men and women.
Author:
[Silhouettes; portraiture; eighteenth-century fashion]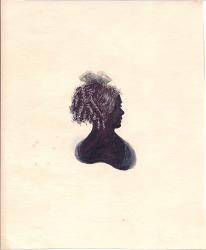 SKU: 9783
On eight pieces of 8vo paper, one of which has ha d a 3 cm horizontal strip cut away at the foot (not affecting the image). On a variety of different paper types, all wove. Good, on aged paper. Attractive images, ranging in height from 7 to 9 cm, of four women and four men, all clearly belonging to the eighteenth-century middle-classes. Executed in black ink using both pen and brush. Not full silhouettes: in some cases the hair is picked out in white. One of the images, of a young woman with curls and a bow, treated twice in slightly different styles. This and other factors would tend to suggest that these are modern copies.
Phone enquries
RICHARD M. FORD
Tel: +44 20 8993 1235