[ Mona Inglesby and International Ballet. ] Autograph Signatures of Inglesby and 23 members of her International Ballet troupe, including Moira Shearer, Nina Tarakanova, Claudie Léonard Algeranova, Anna Marinova, Joyce Graeme, Rex Reid, Jean Harris.
Author:
Mona Inglesby (1918-2006), dancer, choreographer, founder of International Ballet [ Moira Shearer, Nina Tarakanova, Claudie Léonard Algeranova, Anna Marinova, Joyce Graeme, Rex Reid, Jean Harris ]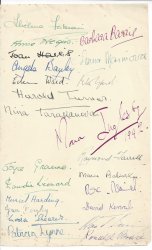 SKU: 20494
There has been a recent resurgence of interest in Mona Inglesby and her International Ballet (1942-1951). In 2008 Kay Hunter published a study of the troupe, titled 'Ballet in the Blitz'; then in 2012 BBC Radio 4 aired a documentary about Mona Inglesby and International Ballet, titled 'Black-Out Ballet: The Invisible Woman of British Ballet'. The writer of the documentary, Ismene Brown, gave the following explanation of her motives: 'In 2006 an elderly dancer died in Bexhill-on-Sea, Sussex. She was 88, and had once been one of Britain's most recognised ballerinas. Why did she die in obscurity? Why is the great ballet company that she ran now a forgotten name? This was what I set out to explore in a BBC Radio 4 documentary which aired yesterday. Inglesby's story has the improbability of an epic. As a very young woman she defied wartime conditions to launch a major ballet company, which introduced the British public en masse to grand ballet. She was also nothing less than the saviour of the most precious texts in all classical ballet. A mounting sense of injustice caused the last remaining dancers of her company, now in their eighties and nineties, to try to get some amends for Inglesby before they too were gone.' The scenery and costume designs of International Ballet are at Harvard. The present item is on one side of a 12mo piece of paper. It is in good condition, lightly aged and spotted. Half way down the page, slightly to the right of centre, is the large firm signature in red ink of 'Mona Inglesby | 1942.' Arranged above and below this, in two loose columns, and in a variety of different-oloured inks, are the other 23 signatures: 'Thelma Fabian | Anne Negus | Joan Harris [later ballet director for The Norwegian National Opera and Ballet, and founder and first director of The Norwegian National Ballet School] | Anglela Bayley | Ward. | Harold Turner. | Nina Tarakanova [(c.1911-1994; Russian, see obituary, Independent, 16 June 1994)] | Joyce Graeme. [(1918-1991; later director of the National Theatre Ballet in Australia, and assistant director of the Ballet Rambert)] | Claudie Léonard [(b.1924; later Claudie Algeranova; French)] | Muriel Harding. | Jean Beazley | Moira Shearer. [(1926-2006; later a celebrated film actress)] | Patricia Lynne. | Barbara Barrie | Anna Marinova [(1917-1982; English, born Daphne Marie Tietgen)] | | Raymond Farrell | Maria Balinska. | Rex Reid [(1921-2000); Australian dancer and teacher] | David Kerral | | Ronald '.
Keywords:
Phone enquries
RICHARD M. FORD
Tel: +44 20 8993 1235