[Angna Enters, American dancer, painter, author.] Sketch of dance costume in pencil and watercolour, captioned 'Fleur du Mal (Proust Sequence)', signed 'Angna Enters '56'. In envelope addressed by her to theatre historian W. J. MacQueen-Pope.
Author:
Angna Enters [Anita Enters] (1907-1989), American painter, writer, dancer and mime, partner of Michio Ito, wife of Louis Kalonyme [Louis Kantor] [W. J. MacQueen-Pope, theatre historian]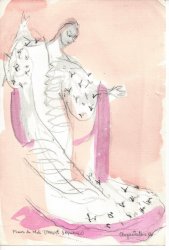 Publication details:
Signed and dated to 1957. Envelope with London postmark dated 18 January 1957 and her embossed address: 35 West 57th Street, New York.
SKU: 22936
Enters exhibited her artistic work - including many sketches of her own costume designs - widely in the United States and Europe, and her work is held by several museums, including the Metropolitan Museum of Art in New York. The present item is an attractive impressionistic sketch, in grey and black pencil, with watercolour wash in pink, light red and grey, showing a dancer with arms outstretched and heavy costume with full sleeves and train. Captioned by Enters at bottom left: 'Fleur du Mal (Proust Sequence)'. Signed at bottom left: 'Angna Enters '56'. On 23 x 15.5 cm laid paper. In fair condition, despite light creasing, dogeared corners and one short closed nick at edge. Inserted, with tissue guard, in envelope with stamps and postmarks, addressed by her to 'W. Macqueen Pope, Esq., | Reuter (News Service) | 85, Fleet Street | London, E.C. | England', and marked 'Personal'. The letter has been redirected in pencil to 5 Coventry Street. The flap has Enters' embossed address. MacQueen-Pope would have had a number opportunities to become acquainted with her work. In her article 1980 article 'Agna Enters: American Dance-Mime' Ginnine Cocuzza notes that Enters made her London debut in 1928, and her television debut on the BBC in 1952. Cocuzza also notes that in 1959, on CBS's 'Camera Three' Enters performed 'three of her dance-mime compositions: 'Pierrot- Figures in Moonlight', 'Queen of Heaven' and 'Fleur du Mal - Tango Dancer''. The present costume design is from the last of these. (See also 'Uncommon Eloquence: A Biography of Angna Enters, Writer, Dance-Mime, Artist' by Dorothy Mandel (1986).) The Angna Enters and Louis Kalonyme Papers are held by the Beinecke Library, Yale University.
Keywords:
Phone enquries
RICHARD M. FORD
Tel: +44 20 8993 1235