['The tarn is metres above the level my legs would take me': Norman Nicholson, Cumbrian poet.] Typed Letter Signed to 'Eric', commenting wistfully on two correspondents pointing out a 'simple slip' in Hunter Davies' 'Walk Around the Lakes'.
Author:
Norman Nicholson [Norman Cornthwaite Nicholson] (1914-1987), Cumbrian poet [Millom, Cumbria; Lake District; Hunter Davies]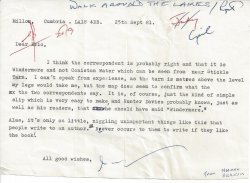 Publication details:
25 September 1981; Millom, Cumbria.
SKU: 24025
1p, landscape 8vo. In fair condition; a little creased. Folded twice. Nicholson's signature is a stylized squiggle, and there are a few minor autograph corrections to the typescript. The letter begins: 'Dear Eric / I think the correspondent is probably right and that it is Windermere and not Coniston Water which can be seen from near Stickle Tarn.' Nicholson cannot speak from experience, 'as the tarn is metres above the level my legs would take me, but the map does seem to confirm what the two correspondents say'. He considers it 'just the kind of simple slip which is very easy to make', and is sure that Hunter Davies knows, 'just as well as his readers, that he should have said "Windermere."' He concludes: 'Alas, its only on little, niggling unimportant things like this that people write to an author. Never occurs to them to write if they like the book!' The recipient is presumably a representative of Davies' publishers' Weidenfeld and Nicholson (no relation). 'Eric' has written his initials ('EB') in red ink over the address, with date, and has forwarded to 'Judy', whose name has been crossed out (presumably by her on reforwarding) and replaced by 'Cyril'. 'Walk around the lakes' is written in capitals in a third hand at head, with 'From Norman Nicholson' in a fourth hand at bottom right.
Keywords:
Phone enquries
RICHARD M. FORD
Tel: +44 7884 315 545