[William I, King of the Netherlands, Prince of Orange, as Erfprins (hereditary prince).] Autograph Letter Signed ('G. F. Pr Hed.d'Orange'), in French, to Lord Auckland, while in exile in England, expressing thanks and condoling upon a sad event.
Author:
William I, King of the Netherlands, Prince of Orange, and Grand Duke of Luxembourg [Willem Frederik, Prince of Orange-Nassau (1772-1843)]; Lord Auckland [William Eden, 1st Baron Auckland (1745-1814)]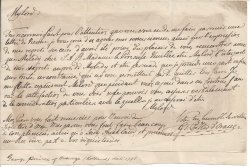 Publication details:
No date or place. [Written while in England, c. 1795.]
SKU: 24113
The recipient is not named (the salutation is to 'Mylord'), but William ends with compliments to 'Lady Auckland', and the letter also contains a reference to Eden Park. 1p, landscape 12mo. In fair condition, on aged paper, laid down on part of leaf cut from album. Signed 'G. F. Pr Hed.d'Orange'. The mount is captioned, in a contemporary hand, 'George [sic] Prince of Orange (Holland) date 1798'. Despite this, the indications are that this item in fact dates from 1795, the year in which William accompanied his father the stadtholder William V to exile in England (from which this letter clearly written: see the reference to Eden Farm and to 'nos sejours dans ces Contrees') following the Batavian Revolution. His father remained in England, while he returned to the continent in the same year. Supporting this assumption is the reference in the letter to 'tristes circonstances qui ne vous permettent pas de quitter Edes fam [sic, for 'Eden Farm']', perhaps a reference to the death of Auckland's four-year-old son George in 1795. He thanks him for the care he has taken over 'une lettre de Vienne', and expresses regret at not seeing the recipient and 'Mylady cher S. A. R. Madame la Princesse'. He is conscious of the sad circumstances which have prevented them from leaving 'Edes fam'. He hopes that 'pendant nos sejours dans ces Contrees' he has the satisfaction of seeing him and assuring him 'verbalement' of his 'considerations particulieres'. In a postscript he writes of his father: 'Mon Pere vous fait remercier pour l'envoi du Texte [?]', and presents compliments 'a Lady Auckland'. See image.
Keywords:
Phone enquries
RICHARD M. FORD
Tel: +44 7884 315 545