Autograph Letter Signed ('Charle | Geographe rue de Sevres | No. 48.'), in French, to the French Minister of War, 'Monseigneur le Maréchal Duc de Bellune'.
Author:
J. B. L. Charle, French cartographer [Claude Victor-Perrin (1764-1841), Duc de Belluno (Bellune)]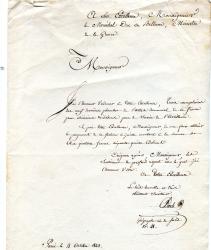 SKU: 8401
One page, on the recto of the second leaf of a bifolium, leaf dimensions 31 x 20 cm. In fair condition on lightly-aged paper with slight wear to extremities. According to his entry in the catalogue of the Bibliothèque Nationale, Charles was a 'Géographe attaché au Dépôt général de la guerre en 1933 [sic], ancien membre de la Société de Géographie. - Dessinateur, il eut une production cartographique très abondante à partir de 1823'. Neatly laid out. Employing the customary niceties, Charle is presenting 'Trois exemplaires des neuf dernieres planches de l'Atlas Communal de la France par Divisions Militaires pour le Service de l'Artillerie'. He asks to receive 'le payment de la facture ci-jointe [not present] montant à la Somme de Cent quatorze Francs soixante quinze Centimes'. An uncommon signature: a manuscript note on the recto of the first leaf reads 'manque dans Quérard'.
Phone enquries
RICHARD M. FORD
Tel: +44 20 8993 1235