Autograph Letter signed to Barret.
Author:
Charles Palmer [William Barret (Berret, Burrit); the Townley Estate; the Heir at Law Society]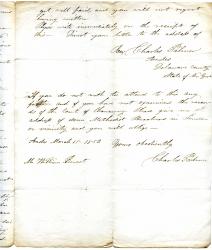 SKU: 9223
4to, 3 pp. Bifolium. Sixty-one lines of text. Clear and complete. Good, on lightly-aged and worn paper. Docketed 'William Burrit [sic] & Hawes | Charles Palmer | Mar 15 & May 52 Recd'. Reminding Barret (or Burrit) of a letter written by Palmer from America two or three years previously, which he answered on behalf of the Heir at Law Society. 'The letter stated that the Boston and Philadelphia papers contained a notice, that, according to a late decision of the Court of Chancery in London, thirty millions of dollars of the Townly estate belonged to the heirs of John Lawrence in this county. Also that we could produce abundant evidence that we were the heirs of this same John Lawrence.' Palmer's family have sent five pounds to the society, but have received no reply to their enquiries. Their representative 'William B Haws a lawyer in Otsego county New York State' claims to have written frequently but to have received 'no word from you. Dear Sir is this true - We doubt it here very much. We are suspicious that Mr Haws is figuring with two men in New York City, who profess to be agents for such matters'. If Barret does not wish to attend to the matter, asks him to send 'the address of some Methodist Preachers in London or vicinity'. The 'Townley Estate' is said to be a myth, and Palmer and his family would appear to have been victims of a confidence trick.
Phone enquries
RICHARD M. FORD
Tel: +44 20 8993 1235