[Mrs Alec Tweedie [Ethel Brilliana Tweedie, née Harley], travel writer, author and society figure.] Three substantial volumes of newspaper cuttings, collected by her, relating to her life, work and travels in Iceland and Mexico.
Author:
Mrs Alec Tweedie [Ethel Brilliana Tweedie, née Harley] (1862–1940), travel writer, author and society figure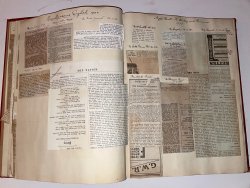 Publication details:
1887-1909. England, Iceland, Mexico, USA. Vol.1: January 1887 to July 1899. Vol. 2: February 1900 to January 1909. Vol. 3: July 1906 to January 1909.
SKU: 24462
See her entry in the Oxford DNB, which carries a quotation pointing out her 'unerring sense of admiration for herself'. What the present collection of well over a thousand cuttings assembled by her from newspapers and magazines appears to indicate is that the admiration was to a certain extent also felt by the general public; and taken as a whole the collection serves as a memorial to a once-celebrated English public figure, a woman making her mark on society in the age of suffrage. The first volume (1887-1899) is 117pp, folio: firm and tight in brown leather half binding. It begins with an illustrated article on her 'very large and fashionable wedding' in 1887, and carries a couple items of personal ephemera from the same period. Many of the cuttings that follow are concerned with her travels in Iceland, with some relating to the question of whether women should 'ride astride', as she did on another of her travels. There are also several pages of reviews of her 1898 'Queens College Memorial Booklet'. Among items tipped in are a manuscript letter in German to 'Mein liebe Harley' from 'Olga', and a menu. The second volume (1900-10), is 123pp, folio: firm and tight in a black leather half binding. It carries the decorative bookplate of 'E. ALEC TWEEDIE. LONDON'. The earliest cuttings are from America, and one of them, with photograph, is titled 'The Chaperon / Gossips About Mrs. Alec Tweedie and Others.' Among several other articles about her is 'Woman with the Hoe is now here / Mrs. Alec Tweedie, of London, Talks of Farming in England and How Agriculture Can Be Made to Pay'. As the volume proceeds cuttings from England begin to predominate, including several pages of reviews of her 'Behind the Footlights'. Inserted is the whole front page of the Daily Mirror, 8 January 1909, with photographs of her and headline 'British Help for Stricken Sicily: Mrs. Alec Tweedie sends out the First Consignments of 10,000 garments.' It also includes a table plan of a dinner at Mansion House, and two German offprints, one a review of her biography of Porfirio Diaz by Emil Daniels. Also present is an ALS from Hubert C. Gibbs, 14 May 1906, providing a translation of a passage about her Diaz book. The third volume (1906-1909), although the smallest of the three is still a large 4to, in red leather half binding with the spine lacking. It is the only volume not to have been filled up: only the first 28pp carry cuttings. That it is a spill-over from the second volume is made clear in autograph on the first page: 'cont. from Book 2. American Reviews, and the volume begins with reviews of her 1906 book on Porfirio Diaz. There are also several pages of reviews of her 1908 book on Hyde Park. Other pages carry cuttings on 'Travel Exhibition May 1907' and 'Sicilian Refugees Clothing Jan 1909'. See image for sample and for references in her hand (throughout).
Keywords:
Phone enquries
RICHARD M. FORD
Tel: +44 7884 315 545