[Isaac Watts.] Printed pamphlet: 'The End of Time. / An Extract from Dr. Isaac Watts.'
Author:
Isaac Watts (1674-1748), English Congregational minister, hymnologist ('Godfather of English Hymnody'), theologian, and logician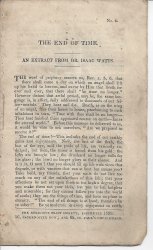 Publication details:
No date. 'No. 4.' The Religious Tract Society, instituted 1799, 56, Paternoster Row; and 65, St. Paul's Churchyard. Printed by William Clowes and Sons, Duke street, Lambeth.
SKU: 24602
Four copies on JISC (only one in a deposit library, NLS); now scarce. 12pp, 12mo. Disbound. Worn and discoloured. After the end of the prose work are two poems (pp.11-12): 'Hymn. / Frail Life and Succeeding Eternity' and 'The Danger of Delay.' In addition to being the 'Godfather of English Hymnody', Watts was a noted logician, producing a successful work on the subject, and despite the repetition of the phrase 'Time shall end!' throughout, the present extract treats the subject of 'The End of Time' in an unusually thoughtful way for a work of theology. For example: 'Am I walking in a garden, and do I stand to observe the slow motion of the shadow upon a dial there? It passes over the hour lines with an imperceptible progress, yet it will touch the last line of daylight shortly'.
Keywords:
Phone enquries
RICHARD M. FORD
Tel: +44 7884 315 545