[King Louis XVIII of France and Chateaubriand.] Secretarial Letter Signed by 'Louis', and with the signature of 'Chateaubriand', addressed to 'Mon Cousin' and expressing cordial sentiments, with reference to 'le sacré collège'.
Author:
King Louis XVIII of France and Chateaubriand [François-René, Vicomte de Chateaubriand]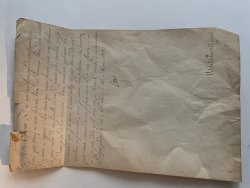 Publication details:
'Ecrit à Paris, le 25 Mars 1823.'
SKU: 24765
See image. A nice item, linking two important figures in French history. 1p, foolscap 8vo, on the recto of the first leaf of a bifolium of unwatermarked gilt-edged wove paper. Aged and lightly creased, with short closed tears and wear at the head. The ten lines of neatly written text are neatly and clearly signed 'Louis', and there is a wavy and almost vertical line from the king's signature to that of 'Chateaubriand' at bottom right of the page. The text reads: 'Mon Cousin, J'ai reçu avec beaucoup de satisfaction la lettre que vous m'avez adressée lors des dernières fêtes de la nativité de notre Seigneur. Les vœux que vous former pour mon bonheur et pour celui de ma famille m'ont d'autant plus touchés que je ne doute point de leur sincérité. Vous connaissez également les sentimens [sic] que j'ai pour le sacré collège et pour chacun de ses membres en particulier, aussi je saisis bien volontiers cette occasion pour vous assurer de ma parfaite estime et de mon affection. Sur ce, je prie dieu qu'il vous ait, Mon Cousin, en sa sainte et digne garde. Ecrit à Paris, le 25 Mars 1823.' The lack of a seal suggests the letter may not have been sent.
Keywords:
Phone enquries
RICHARD M. FORD
Tel: +44 7884 315 545