[James Payn, Victorian novelist, journalist and magazine editor.] Signed Autograph Inscription 'from your fathers friend', from the autograph album of George Meredith's daughter Mrs Sturgis.
Author:
James Payn (1830-1898), Victorian novelist and journalist, editor of Chambers's Journal in Edinburgh and the Cornhill Magazine in London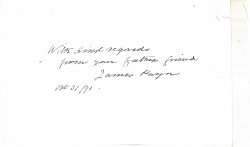 Publication details:
31 October 1891. No place.
SKU: 25258
See his entry in the Oxford DNB. From the autograph album of the novelist George Meredith's daughter Marie Eveleen ('Mariette'; 1871-1933), later the wife of Henry Parkman Sturgis (1847-1929), American-born banker and Liberal politician. 1p, landscape 12mo. In good condition, lightly aged, laid down on a part of a leaf from the album. Neatly written and centred on the page. Reads: 'With kind regards / from your fathers friend / James Payn / Oct 31/91.'
Keywords:
Phone enquries
RICHARD M. FORD
Tel: +44 7884 315 545