[Paul Bourget, French novelist and poet.] Autograph Letter Signed [to Scottish author William Sharp?], sending new year greetings and expressing thanks for a translation of one of his poems.
Author:
Paul Bourget [Paul Charles Joseph Bourget] (1852-1935), French novelist and poet, five-time Nobel Prize nominee [William Sharp (1855-1905), Scottish writer under the pseudonym 'Fiona Macleod']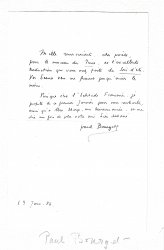 Publication details:
1 January 1886; no place.
SKU: 25266
This item is from the autograph album of the author George Meredith's daughter Marie Eveleen (Mariette; 1871-1933), wife of Henry Parkman Sturgis (1847-1929), American-born banker and Liberal politician. It does not however appear to be addressed to Meredith, but rather to the author William Sharp ('Fiona Macleod'). See the several references to Bourget in the first volume of W. F. Halloran's edition of Sharp's letters. 1p, 16mo. Laid down on part of gilt-edged leaf from Mrs Sturgis's album. In good condition, folded once for postage. Nine neatly-written lines, with Bourget's distinctive signature. Begins: 'Mille remerciements, cher poète, pour le morceau du Time, et l'excellente traduction que vous avez faite du Soir d'été.' His 'beaux vers' have made Bourget love his own. He concludes with new year greetings: 'Puis que c'est l'habitude Française, je profite de ce premier janvier pour vous souhaiter ainsi qu'a Mrs Sharp, une heureuse année - et me dire une fois de plus votre ami bien devoué / Paul Bourget / 13 Janv. 86'. See Image.
Keywords:
Phone enquries
RICHARD M. FORD
Tel: +44 7884 315 545