Everything New? Or Nothing New? A Satirical Comicality, Relating to Men, Manners, Incidents, and Novelties of the Day. [...] To which is added, The Shakespeare Tercentenary Prologue, As Spoken by the author, April 23, 1864.
Author:
William Scribble, Esq.' (pseudonym of William Smyth (1813-1878), Irish portrait painter, satirist and friend of William Makepeace Thackeray)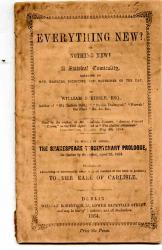 Publication details:
Dublin: William Robertson, 35, Lower Sackville-street, And may be had of Wiseheart, and all Booksellers. 1864. [Goodwin, Son, and Nethercott, Printers, 79, Marlborough-street, Dublin.]
SKU: 7364
12mo: 24 pp. In original pink printed wraps: the front wrap bearing the title; the recto and verso of the rear carrying newspaper reviews of works by 'Scribble'. Stitched. On aged and spotted paper. Wraps heavily worn. A worn presentation inscription can be made out at the head of the title: 'Dr <?> With the Authors Best regards'. Pp.1-2: Introduction and Author's Preface (the latter dated 'Dublin, May, 1864.'). (Introduction, p.2: 'It has been thought advisable to take this opportunity to publish also the "SHAKESPEARE TERCENTENARY" Prologue - delivered by the author at the entertainment given by "The Amateur Musical Society" at the same place [the "Antient Concert Rooms," Dublin], on the 23rd of April, which was likewise most kindly received by the audience, and has been spoken of by the Press in highly complimentary terms.' Pp.3-21: the first poem, 'Everything New? Or Nothing New?' Pp.22-24: the second poem, 'The Shakespeare Tercentenary Prologue, written for the Entertainment given by The Amateur Musical Society, In Commemoration of the 300th Anniversary of Shakespeare's Birth, and spoken by the Author on the Occasion.' Seventy-six lines, in heroic couplets, beginning 'Three Hundred Years! - thus ages roll away! | Three hundred Springs have passed with flowers of May;'. Ends 'To soothe their bed in sickness is our aim - | If thus we honor thee, what tongue shall blame? | Thy works thy monument! our history's page | Records thy triumph! - All the World's thy stage!' Among the newspaper reviews on the rear wrap are eight headed 'OPINIONS OF THE PRESS. | On "William Scribble's Recitation of "Everything New? or Nothing New? and of the Shakespeare Tercentenary Prologue, at "the Antient Concert Rooms" Dublin.' On the title-page the first of the two works is said to have been 'Read by the author, at Mr. Gaskin's Concert, "Antient Concert Rooms," on the 19th April, and at "The Dublin Athenaeum" Conversazione, Rotundo, May 4th, 1864.' The title states that the work is be 'By William Scribble, Esq. Author of "Old Carlisle Bridge," "Dublin Destroyed," "Hurrah! the Fleet!" &c. &c. &c.' Excessively scarce: the only copy listed on COPAC is at the British Library.
Phone enquries
RICHARD M. FORD
Tel: +44 20 8993 1235