Portrait (stipple engraving) of 'Thomas Miller, Bookseller, Bungay, Suffolk. Died June 24th. 1804 - Aged 73. | Engraved by E. Scriven from a Miniature by H. Edridge Esqr.'
Author:
Thomas Miller (1731-1804), bookseller of Bungay, Suffolk [Edward Scriven; Henry Edridge]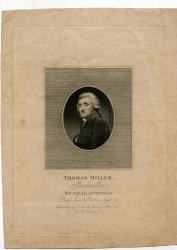 SKU: 7772
Paper dimensions 25.5 x 19 cm. Plate dimensions 22 x 16 cm. The head-and-shoulders portrait itself is oval, 7 cm high and 5.5 cm wide, contained in a square 11 x 9.5 cm, and with the caption beneath it. Printed on aged paper, with the image itself and the caption are clean and crisp, but the paper carries a crease to the margin, and there is light staining intruding into the surrounding square. Dibdin gives an account of Miller, whose son was the noted bookseller William Miller of Albemarle Street, in his 'Bibliomania' (1811 ed., pp.630-31). The National Portrait Gallery copy of this item, purchased in 1955, is NPG D13660.
Phone enquries
RICHARD M. FORD
Tel: +44 20 8993 1235