Letter, in a secretarial hand, signed by Cuvier ('Bn G Cuvier'), to 'Mr. Raynal, Proviseur du college Royal de Nismes'. With engraved portrait of Cuvier by T. Richomme, from a drawing by 'Mme Lizinka de Mirbel'.
Author:
Baron Georges Cuvier [Baron Georges Léopold Chrétien Frédéric Dagobert Cuvier] (1769-1832), French naturalist [Theodore Richomme; Aimée Zoe Lizinka de Mirbel]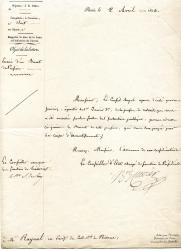 Publication details:
Letter of 2 April 1822; on letterhead of the Conseil royal de l'Instruction publique. Engraving undated (circa 1840?).
SKU: 7967
Letter: Folio (30.5 x 20 cm), 1 p. Bifolium, with text on recto of first leaf and address (with several postmarks) on reverse of second. Five lines. Text clear and complete, with good clear signature. Fair, on aged and lightly-creased paper, with 1.5 cm closed tear in top left-hand corner (not affecting text). The 'Objet de la lettre' is given as 'Envoi d'un Brevet de Pension'. The pension will be paid 'par la Caisse d'Amortissement'. Engraving: Original, on paper 24 x 15.5 cm. Captioned 'G. CUVIER.' A good clear impression on grubby, spotted and lightly-creased paper.
Phone enquries
RICHARD M. FORD
Tel: +44 20 8993 1235