Autograph Letter Signed ('A Guinnard'), in French, to an unnamed male correspondent.
Author:
Auguste Guinnard, French traveller, who wrote an account of his three-years' captivity in Patagonia [Jules Verne; Pierre Kalfon; Benard]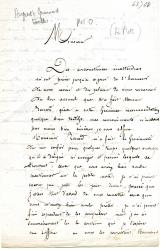 Publication details:
7 January 1863. 4 rue St Louis en l'Ile [Paris].
SKU: 8069
8vo, 2 pp. Bifolium. Thirty-two lines of text. Text clear and complete. Good, on lightly-aged and creased paper. It is only now that he is able to thank him for the 'bon accueil que m'a fait Monsieur Benard grâce à votre Gracieuse recommendation'. Benard has lent him 'quelques ouvrages', including 'ceux que vous aviez bien voulu <?> sur la petite note'. He has not had time to look at them, 'pressé que j'etais tout d'abord de vous remettre ceux que vous m'avez bien voulu prêter'. He has not been able to 'les compulser', but has 'sommairement lu le contenu qui je l'espere me suffira'. As for the 'récit sur l'histoire des révolution des républiques de la Plata' that he has lent him, he will return it 'en temps convenable', as it is 'indispensable pour commencer mon histoire'. In 1861 Guinnard's account of his three years of captivity by the Patagonians (1856-1859) was published in 'Le Tour du Monde'. It inspired the first part of Jules Verne's novel 'Les Enfants du Capitaine Grant'. Guinnard's adventures are also the subject of the French novel 'Pampa' (2006) by Pierre Kalfon.
Phone enquries
RICHARD M. FORD
Tel: +44 20 8993 1235