Autograph Signature, in roman script ('A. N. Roussoff').
Author:
Alexandre Nicolaievich Roussoff [Alexandre Nicolaïevitch Roussoff or Volkoff-Muromsoff] (1844-1928), Russian artist and rival of Whistler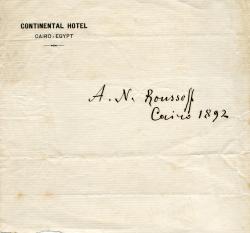 Publication details:
Dated 'Cairo 1892'. On letterhead of the Cairo Continental Hotel.
SKU: 8306
On piece of watermarked laid paper 12.5 x 13.5 cm. In fair condition: lightly-aged and creased. Clearly in response to a request for an autograph. Firmly written, with the signature 5.5 cm long. Reads 'A. N. Roussoff | Cairo 1892'. Roussoff famously wagered that he could produce a dozen pastels indistinguishable from those of Whistler. He lost the bet, and was 'obliged to take a course of mud baths after his defeat'.
Phone enquries
RICHARD M. FORD
Tel: +44 20 8993 1235