Autograph Letter Signed ('W. P. Greswell') to an unnamed bookseller [Thomas Thorpe?].
Author:
William Parr Greswell (1765-1854), Anglican clergyman and bibliographer [Thomas Thorpe, London bookseller]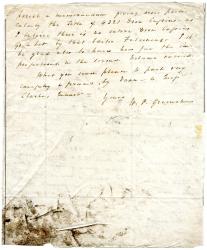 Publication details:
4 October 1821; Denton near Manchester.
SKU: 8690
4to, 2 pp. Thirty lines of text. Clear and complete. On aged and grubby paper. One closed tear and minor traces of mount to extremities. An interesting letter, casting light on the relationship between bookseller and knowledgeable client in Georgian England. He gives the conditions under which he would be interested in buying a few items from the booksellers monthly catalogue. Regarding '4333 Poeta Graeci' he writes that he is deterred from buying it at three guineas 'as Mr Bohn lately offered a Copy in 2 vols I think at about 35s/ which is now in his Catalogue and it is not a Book at present in great demand - But if it be a very clean and faultless Copy I am willing on acct of the extra Binding to give you for it £2. 2. 0 clear of discount'. Asks for 'a memorandum giving more particularly the Title of 4321 Dion Cassius - as I believe there is no intire [sic] Dion Cassius Gr. & Lat by that Editor Falconius'. Asks him 'to pack very carefully & forward by Vann - to Messrs Clarke, Manchr'.
Phone enquries
RICHARD M. FORD
Tel: +44 20 8993 1235