Poems and Ballads of Young Ireland 1888. [Inscribed by the contributor Rose Kavanagh.]
Author:
Rose Kavanagh (1860-1891), John Todhunter, Katherine Tynan, W. B. Yeats, Patrick Henry, T. W. Rolleston, Charles Gregory Fagan, Ellen O'Leary, Frederick J. Gregg, George Noble Plunkett, contributors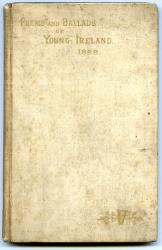 Publication details:
Dublin: M. H. Gill and Son, O'Connell Street. 1888.
SKU: 8710
Wade A289. 12mo: viii + 80 pp and errata slip. In original cream buckram binding, with title and harp decoration in gilt on front board. Black endpapers. Internally tight, on aged and spotted paper. Binding grubby, stained and worn, with slight damage at head and foot of spine. Some ink marking to the fourth stanza of the dedicatory poem to John O'Leary (p.1). Housed in a green solander box. Inscribed at head of title: 'Elizabeth Monteagle from Rose Kavanagh | June 21. 88'. (Lady Elizabeth Monteagle was wife of the Irish peer Thomas Spring Rice, 2nd Baron Monteagle of Brandon.) Kavangh contributes three poems: 'Lough Bray', 'Bresal's Bride' and 'St. Michan's Churchyard'. The volume also includes the first printings of four poems by Yeats: 'The Stolen Child', 'King Goll', 'The Meditation of the Old Fisherman' and 'Love Song. From the Gaelic'. Rose Kavanagh died young, suggesting that autograph material will be very scarce. Rare: between them COPAC and WorldCat can only muster eight copies.
Phone enquries
RICHARD M. FORD
Tel: +44 20 8993 1235