Autograph Note in the third person to Simco. With priced list (by Simco?) of engravings on reverse.
Author:
John Chamberlaine (c.1745-1812), antiquary [John Simco (c.1749-1824), London bookseller]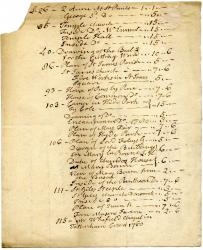 Publication details:
Brompton. Friday Morng' [c.1812?].
SKU: 9101
12mo, 1 p. On bifolium. Good, on aged paper. Addressed, on reverse of second leaf, to 'Mr. Simco | Warwick St. | Golden Square.' Asking Simco to send a book 'by the Bearer', as well as ' a remittance upon his account of Holbein', as 'he has some large payments to make at the beginning of next week'. (The reference would appear to be to Chamberlaine's 1812 4to edition of Bartolozzi's engravings from Holbein.) Lengthwise across the verso of the first leaf and recto of the second, and so making one 8vo page, is a list in another hand of 28 engravings, with prices ranging from 2s 6d to a guinea. Most relate to London topography. BBTI has Simco at a number of addresses from before 1784 to 1817, but his obituary in the Annual Register shows that Simco was at his last address, Air Street, Piccadilly, at the time of his death in 1824.
Phone enquries
RICHARD M. FORD
Tel: +44 20 8993 1235