Elegant ink drawings of fashionable young ladies, said to be unused illustrations by Edward Burney for his cousin Fanny Burney's 'Evelina'.
Author:
Edward Burney (1760-1848), English artist, and cousin to the novelist Fanny Burney (1752-1840)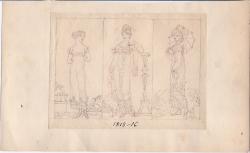 Publication details:
The first page of three drawings, young women posed separately,is dated in a contemporary hand '1815-16' and the other page, with four interacting figures is dated '1816-17'.
SKU: 9678
In good condition, on lightly-aged paper. Dimensions are approximate. The three illustrations (1815-6), each 8.5 x 4 cm, form three panels on a 10 x 13.5 cm piece of paper. Each shows a standing young lady, dressed in the height of fashion: one posing in hat with a parasol and flanked by plant pots, another showing a young lady with empire line dress and hands behind her back, and another with a lady with elaborate ballgown and piled hairdo, with her left arm resting on a high stand.The second drawing (1816-7), neatly mounted in a windowpane frame, is in a 7.5 x 10.5 cm border, on a 10 x 13 cm piece of paper. An elegant and stylized representation of four fashionable young ladies (two in bonnets standing, and two seated in empire-line dresses), apparently examining shells. Although the illustrations have more the feel of fashion plates, they were identified as unused illustrations for 'Evelina' by the writer and collector, A. M. Broadley, from whose celebrated collection of illustrations they derive.
Phone enquries
RICHARD M. FORD
Tel: +44 20 8993 1235