Autograph Letter Signed ('John Hullah') from the English composer John Pyke Hullah to the organist Edward Francis Rimbault.
Author:
John Hullah [John Pyke Hulla] (1812-1884), English composer for one of whose operas Charles Dickens wrote the libretto [St Martin's Hall, Long Acre; Edward Francis Rimbault (1816-1876), organist]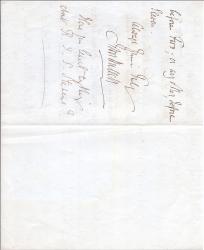 Publication details:
30 March 1868; on letterhead of 11 Devonshire Place, W., London.
SKU: 10144
12mo, 2 pp. Bifolium. 12 lines. Text clear and complete. Good, on lightly-aged paper. He would 'much like' to show him a song he has written for 'Exeter Hall', and proposes dinner the following day. In a postscript asks if he has 'learnt anything about R. J. S. Stevens'.
Phone enquries
RICHARD M. FORD
Tel: +44 20 8993 1235