Photographic portrait by Messrs W. Walker & Sons of Cavendish Square, London, of the English composer John Pyke Hullah, on albumen carte-de-visite.
Author:
John Hullah [John Pyke Hulla] (1812-1884), English composer for one of whose operas Charles Dickens wrote the libretto [St Martin's Hall, Long Acre]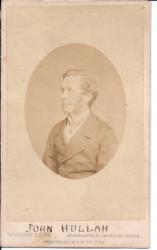 Publication details:
Undated (circa 1860?). Messrs Walker & Sons, Artists & Photographers, 64 Margaret Street, Cavendish Square, London.
SKU: 10149
Oval sepia photograph of the head and shoulders of Hullah, looking to his right in double-breasted jacket. Faded and on aged card, with traces of mount adhering to reverse. The sitter - who by comparison with other photographs is definitely Hullah - is named as 'JOHN HULLAH' in a contemporary hand on the card beneath the laid-down photograph, and as 'Mr Hullah' in pencil on the reverse. Not present in the collection of the National Portrait Gallery, which only holds three images of the composer.
Phone enquries
RICHARD M. FORD
Tel: +44 20 8993 1235