Satirical political handbill, in the form of a funeral service, entitled 'Death & Burial of the Whigs, and Resurrection of the Tories.'
Author:
T.' [English political satire; Sir Robert Peel; British General Election of 1841; Lord John Russell]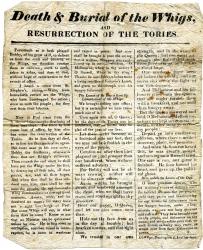 Publication details:
No date, but produced following the General Election of 1841. 'Lowe pr. Dorrington st. Leather-lane.'
SKU: 7540
Printed in three columns of small type on one side of a piece of wove paper roughly 22.5 x 18 cm. Text clear and complete on grubby, worn, creased and foxed paper. Begins 'Forasmuch as it hath pleased Bobby [Sir Robert Peel], of his great skill, to deliver us from the craft and cunning of the Whigs, we therefore consign them to oblivion; earth to earth, ashes to ashes, and dust to dust, without hope of resurrection to the sweets of office.' Covering one and a half columns is 'The Lesson of the Day [...] from the Lamentation of the Whigs.' Signed in type: 'T.' Scarce: no copies on COPAC or WorldCat. BBTI dates the printer Charles Lowe to between 1839 and 1851.
Phone enquries
RICHARD M. FORD
Tel: +44 20 8993 1235