Four copies (on white, blue, pink and yellow paper) of a printed handbill titled 'Copy of a Letter from S. F. a Member of the Society of Friends, to a Young Woman, a Short Time before her Marriage.'
Author:
S. F.' [Society of Friends; Quakers; Victorian women; nineteenth-century marriage]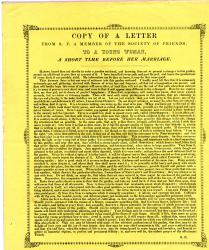 Publication details:
Undated [1840s?], and without publication details [English].
SKU: 8246
Each copy is identically printed, on a piece of paper roughly 22.5 x 19.5 cm. Title and 56 lines of text (ending 'S. F.'), within a decorative border. Three of the four have a lightly-embossed stationery crown mark in a top corner. All four with text clear and complete, and in good condition, on lightly-aged and creased paper. Begins 'HAVING heard thou art shortly to enter a garden enclosed, and knowing thou art at present a stranger to this garden, permit an old friend to give thee an account of it. I have travelled every path and part thereof, and know the productions of every kind, it can possibly yield. My information can do thee no harm, it may do thee some good.' An extended metaphor, with the reader enjoined, after walking the 'HONEY-MOON path', to follow those of Regularity and Exactness, and to avoid that of Peverseness, to cultivate the plants Humility, Compiance, Good-Humour and Economy, and to shun those of Jealousy, Obstinacy and Pride. Ends 'That you may be blessed with some of the sweetest productions of the garden, that they may be the delight of your eyes and the joy of your hearts, that they may be your chief ornaments in life, and your comfort in death, and that you and they, when the season of life is over, may be transplanted to some happy soil hereafter, and flourish together in immortal regions, in perfect and permanent felicity; is, and ever will be, the ardent prayer of thy affectionate Friend, | S. F.' Possibly the work of a woman. Scarce: no copy in the British Library, or on Copac or Worldcat.
Phone enquries
RICHARD M. FORD
Tel: +44 20 8993 1235