Thirty-one items: including fourteen Signed Letters and Notes (all 'E. F Crowe'), Typed and in Autograph, mostly written to various Secretaries and officials of the Royal Society of Arts. With enclosures, drafts and copies of replies.
Author:
Sir Edward Crowe [Sir Edward Thomas Frederick Crowe] (1877-1955), public servant, Vice-President (1937-60), President (1942-3), and Chairman of the Council (1941-3) of the Royal Society of Arts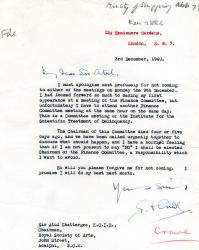 Publication details:
Dating from between 27 June 1940 and 26 March 1943. Most of Crowe's letters from his London address: 12A Ennismore Gardens, SW7.
SKU: 8596
The collection of thirty-one items is in good condition, with the texts (in a variety of formats) clear and complete. Includes nine Typed Letters Signed, one Autograph Letter Signed, two Autograph Notes Signed, one Autograph Card Signed, one Typed Note Signed by Crowe, with a Typed Letter and a Typed Note signed on his behalf. The first item is an Autograph Card Signed from Crowe accepting his election as the Society's Vice-President. (Another item is an Autograph Note Signed (27 June 1941) from him 'accepting the invitation to join the Council'.) Also present is a signed copy of a letter from Crowe to the Rev. Spencer Leeson, Headmaster of Winchester College, regarding a paper he is planning to give to the Society. Also included is a Typed Letter Signed (13 June 1941) to Crowe from Sir David Scott at the Foreign Office, regarding 'the award of the Albert Gold Medal to President Roosevelt' ('On the whole we think that we would get better value from this presentation if it were made in the United States of America'). There is also a Typed Letter Signed (31 October 1941) to Crowe from the Society's Secretary K. W. Luckhurst, regarding the 'important' presentation of the Albert Medal. Other matters dealt with include a 'difficult application' from an 'illiterate' named Redman, 'the idea of awarding of an R.D.I. to aircraft designers', and the possible award of an Albert Medal to General Smuts.
Phone enquries
RICHARD M. FORD
Tel: +44 7884 315 545