[Oxford Circuit in the 1880s.] 27 sketches and caricatures by Lauriston Leonard Batten of barristers (including Lord Loveburn; C. J. Darling), judges and others, including several court scenes; for fellow barrister the future Sir Richard Harington.
Author:
Lauriston Leonard Batten (1863-1934) [the Oxford Circuit in the late nineteenth century; Sir Richard Harington (1861-1931), Puisne Judge in the High Court of Justice at Fort William in Bengal]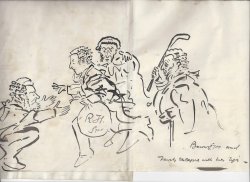 Publication details:
The Oxford Circuit [Gloucester, Reading, Shrewsbury Assizes; Birmingham Assizes]. A few items dated to 1887, 1888, 1891, 1894.
SKU: 22653
Lauriston Leonard Batten studied at Trinity College, Cambridge (see his entry in Alum. Cantab.). He was admitted at the Inner Temple in 1882 and called to the bar four years later. KC, 1905. Bencher, 1914. The present collection is from the papers of his colleague on the Oxford Circuit, Sir Richard Harington (1861-1931), 12th baronet, who was educated at Eton and Christ Church, Oxford. Called to the Bar in 1886, he practised on the Oxford Circuit before taking up an appointment as a Puisne Judge in the High Court of Justice at Fort William in Bengal in 1899. He returned to England in 1913, and was appointed High Sheriff of Herefordshire in 1918, having succeeded to his father's title in 1911. From the Harington family papers. 27 caricatures and sketched portraits of barristers, judges and others, in robes, including a few court scenes. In ink and pencil, each on a separate piece of paper. In fair condition, with light signs of age and wear. A miscellaneous collections of papers, ranging from a 33 x 11 cm blue-grey strip embossed with the letterhead crest of the Royal Courts of Justice, to the reverse of a 10 x 14 cm cutting from the printed calendar of charges ('Conspiring to cheat and defraud the Great Western Railway Company, by obtaining and making improper use of a ticket, at Didcot, on the 19th December, 1887.'). One caricature is on the reverse of an 20 x 25 cm piece cut from the cover of an 1894 manuscript writ. Several of the sketches are laid down on leaves torn from an commonplace book, one of these leaves having on the reverse a poem ('A certain Mr. Day married a Miss Week') and humorous anecdote relating to W. R. Smith. Five items signed by Batten with his 'LB' monogram, and seven items dated. Three are addressed to Harington (one 'To - | Richard Harington Esq: | per. G[reat]. W[estern]. R[ailway].'), and the material was clearly in order to amuse Harington, Batten being regarded as one of the 'famous wits' of the Oxford Circuit. There are occasional annotations by Harington, as for example 'A sketch taken by L Batten Oxford autumn circuit 1887' and 'Shrewsbury Assizes - 1887'. Another caption reads: 'The Under sheriff | a sketch taken in court at Gloucester during the trial of Wadley. July 14th. 1887. by L: Batten.' The different drawings vary in style, and those with thicker and looser lines being the most successful. Subjects and captions include 'N. T. Reid QC afterwards Lord Loveburn (Ld. Ch)', 'C. J. Darling Q.C.', 'Stanley Weyman' ('Queen v Pugh Cox & Wood'), 'C. A. V.' (a magistrate at the bench, with two court officials), 'Mirehouse' ('Miry'), 'Hawkins', 'A. G. James. | afterwards County Ct. Judge', 'Dr. Gumbleton' ('Gumby'), 'Can't stand George Griffiths', 'reserved witness' (judge at bench, in spectacles), 'Lieut Cole (Master of the Rolls) and his [?] figure', 'The Prosecution which did the criminal act | Reading Feb. 6th 1888', 'The Equity Junior which came special to Shrewsbury Assizes 1887', 'C. V. Called within the Bar very shortly'. Two are caricatures of a striking woman, the plaintive in 'Birmingham Assizes - Aug. 4th. 1887. | Timmins v Crofts for breach of promise'. Five feature Harington: one highly finished effort shows him in court, with a wooden leg, declaiming from 'Lay of the Citi[zen] Diligent' by 'R. H.'; two show him in his robes, grasping a money bag on which is written 'R: H: £700', in one he is running, in the other, captioned 'Borrows £700 and barely escapes with his life', he is being tackled by three other barristers, one with a hockey stick; in another, captioned 'The Red Flag of Anarchy in Gloucester | Flower of D. C. C. Chipp', he flourishes a banner reading 'Briefs or Blood'; in another he stands with hands in pockets, with syringe ('water-pipe') before him; in the last, captioned 'In the Company's Interest - Returned Empty', shows him seated in court with another barrister ('Leslie').
Keywords:
Phone enquries
RICHARD M. FORD
Tel: +44 7884 315 545