[Queen of Romania: Elisabeth of Wied.] Long Autograph Letter Signed ('Elisabeth'), in French, to the novelist Louis Ulbach, lamenting the death of her cousin Marie of Waldeck and praising his work.
Author:
Queen of Romania: Elisabeth of Wied [Pauline Elisabeth Ottilie Luise] (1843-1916), wife of King Carol I, prolific author under the pseudonym 'Carmen Sylva' [Louis Ulbach (1822-1889), French novelist]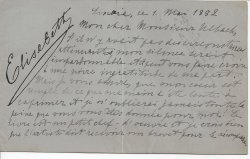 Publication details:
'Sinaie, [i.e. Sinaia, Romania] ce 1. Mai 1882'.
SKU: 24791
Not only an unusually intimate letter for a member of royalty to write, but also an interesting communication from a poet to her mentor. On Ulbach's death the Pall Mall Gazette (20 April 1889) referred to Elisabeth as 'the poet-Queen of Roumania', stating that it was to Ulbach whom 'she owed the publication of the "Pensées d'une Reine" Some years ago Ulbach was travelling in Roumania, and was presented to the Queen at her summer residence at Sinaia.' Perusal of the queen's album of her writing in French 'so delighted Ulbach that he induced the Queen to allow a selection to be made from its contents and published at Paris, under the title of "Pensees d'une Reine."' The present item is 8pp, landscape 12mo. On two bifoliums of grey paper, each with a large printed facsimile of the queen's signature 'Elisabeth' at top left of the first page. In good condition, lightly aged. A long letter of closely-written text, in French, addressed to 'Mon cher Monsieur Ulbach' and signed 'Elisabeth'. Having received 'un petit chef-d'oeuvre' from him, she begins with a mannered apology for her silence, declaring that she will never forget 'toute la peine que vous vous êtes donnée pour moi!' 'Monsieur Urechia' has asked her to write a book 'pour nos écoles' and she has found 'rien de mieux à faire que d'inventer des légendes sur les montagnes de Sinaia'. She has been 'horriblement bouleversée' by the news of the death of 'la soeur de ma cousine', i.e. Princess Marie of Waldeck and Pyrmont (1857-1882), 'morte en couches hier matin. Elle était belle comme le jour, respirant la vie et la joie'. A few weeks before she had thought that her own life was at an end, 'et voilà que ma petite soeur doit s'enaller à ma place, dans la plénitude de sa force et de sa jeunesse!' She continues: 'Vous savez que dès que je n'ai plus été aveuglée par les douleurs, je me suis plongée dans vos livres! - Mes favoris restent toujours Moline Fernel et le Comte Orphée!' She praises his writing at some length, and in particular his understanding of women. 'Ah! quels beaux enfants on pourrait avoir, si l'on savait certaines choses ou si l'on y pensait! Mais nous sommes des ignorants et des étourdis et nous compromettons l'avenir pour nous étormer ensuite.' She wishes he could visit Sinaia again, so that she could have a talk with him: 'Je vous trouverai un endroit pour écrire, où rien ne vous dérangera! Et nous causerons!' After more praise for his writing she ends: 'Je vous remercie encore et encore pour tout ce que vous avez fait pour moi!' See Image.
Keywords:
Phone enquries
RICHARD M. FORD
Tel: +44 7884 315 545