[Sir Michael Redgrave, distinguished English actor.] Autograph Card Signed to 'Christopher' [the playwright Christopher Fry], belatedly congratulating him on the success of his play 'The Lark'.
Author:
Sir Michael Redgrave [Sir Michael Scudamore] (1908-1985), English actor and head of theatrical family dynasty Christopher Fry [born Arthur Hammond Harris] (1907-2005), English playwright]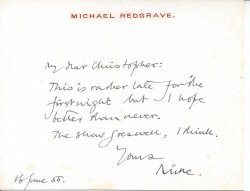 Publication details:
16 June 1955; on his letterhead.
SKU: 24974
See the two men's entries in the Oxford DNB. In good condition. 11.5 x 9 cm card, without illustration. Printed in red at head: 'MICHAEL REDGRAVE.' The message concerns the London production of Fry's 'The Lark' (a translation of Anouilh's 'L'Alouette'), which opened at the Lyric Theatre, Hammersmith, on 11 May 1955. Redgrave would star in Fry's next play, 'Tiger at the Gates' (a translation of Giraudoux's 'La guerre de Troie n'aura pas lieu'), which premiered in New York on 3 October 1955. Written out in an elegant calligraphic hand, and reading: 'My dear Christopher: / This is rather late for the first night but I hope better than never. / The show goes well, I think. / Yours / Mike.' See Image.
Keywords:
Phone enquries
RICHARD M. FORD
Tel: +44 7884 315 545