[Gladys Cooper, star of stage and screen.] Gelatin silver print of Foulsham & Banfield photograph of Gladys Cooper in the play 'My Lady's Dress', with a second photograph of her embracing Dennis Eadie in the same production.
Author:
Gladys Cooper [Dame Gladys Constance Cooper] (1888-1971), English actress, over seven decades a star of stage and screen; Dennis Eadie (1869-1928), actor; Foulsham & Banfield, London photographers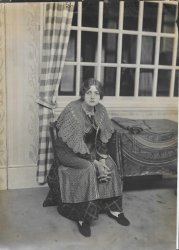 Publication details:
Label on reverse dates the solo photograph to 27 February 1914, with the stamp of Foulsham & Banfield, 49 Old Bond Street, W. [London]. The photograph of Cooper & Eadie without date or place, but from the same production.
SKU: 25384
Edward Knobloch's play 'My Lady's Dress' ('in which', as one newspaper wrote at the time, 'the heroine's dream takes her to the foreign [and London] scenes surrounding the manufacture of a costly gown') premiered at the Royalty Theatre in London in 1914 and was revived several times through the 1920s. Although neither of these photographs is among the five Foulsham & Banfield portraits of Cooper in the National Portrait Gallery collection, the second one (Cooper and Eadie embracing) is present among the seven unattributed scenes from the 1914 production in the Victoria & Albert Museum collection ('Given to the Gabrielle Enthoven Collection by L.E. Berman'). Both of the present items are black and white gelatin silver prints. Dimensions are approximate. ONE: Cooper seated on a chair in front of a window and beside a table, hands clasped in her lap, looking mournfully at the viewer, in dotted smock worn over plaid dress, with lace collar and crocheted Welsh-style shawl. HEIGHT: 30.5 cm. WIDTH: 21 cm. In fair condition, lightly aged, with slight wear and chipping at edges, and one very small closed tear at head, beside '5/-' which appears to be part of the print. Written in pencil on reverse: 'Miss Cooper as Annette / Act I. Sc 3.' Also label with ink note: 'My Lady's Dress / Royalty / Feb 27 1914' and the stamp of Foulsham & Banfield, 49 New Bond Street. TWO: The Victoria and Albert description reads as follows: 'Photographic print of Act III, Scene 3, of a production of My Lady's Dress at the Royalty Theatre, 23rd April 1914. The photograph features a full length image of Miss Cooper as Anne and Mr Eadie as John they are standing together, embracing, and are gazing towards one another.' He wears a dressing gown and she is in a rather splendid Pre-Raphaelite-style dress. Height: 26.5 cm. Width: 20.5 cm. Adhering to the reverse are the remains of a grey paper mount, and no details are given. In good condition, lightly aged. See Image.
Keywords:
Phone enquries
RICHARD M. FORD
Tel: +44 7884 315 545