Allegorical coloured engraved 'Hieroglyphic Portrait' of Napoleon Bonaparte, 'faithfully copied from a German Print', with explanatory letterpress beginning 'NAPOLEON | THE FIRST, and LAST, by the Wrath of Heaven Emperor of the Jacobins, [...]
Author:
Rudolph Ackermann, publisher, Repository of the Arts, 101 Strand [Napoleon Bonaparte; Regency caricature; Georgian London]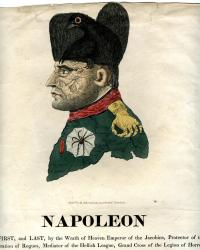 Publication details:
Pubd. by R. Ackermann, 101 Strand, London.' Undated [dated by George to March 1814].
SKU: 7435
BM 12202. On piece of wove paper roughly 410 x 280 mm. On lightly aged and spotted paper, with slight wear and small closed tears to extremities. Closely trimmed at head and foot. Repair to blank reverse, which carries a strip of cloth from previous mount. Text and image clear and entire. Image roughly 190 x 120 cm. The letterpress consists of a thirteen-line 'Parody of [Napoleon's] assumed Titles', ending '[...] the sanguinary Coxcomb, Assassin, and Incendiary......to | MAKE PEACE WITH!!!' There follows a six-line explanation, beginning 'This Hieroglyphic Portrait of the DESTROYER is faithfully copied from a German Print, [BM 12177] with the Parody of his assumed Titles. The Hat of the Destroyer represents a discomfited French Eagle, maimed and crouching, after his Conflict with the Eagles of the North. His Visage is composed of the Carcases of the Victims of his Folly and Ambition, [...]'. Can be dated from the fact that printed on Napoleon's jacket is a map of the environs of Leipzig, with other battles in the campaign indicated. The name of the artist is not stated.
Phone enquries
RICHARD M. FORD
Tel: +44 20 8993 1235