Autograph draft of letter to the Editor of the Daily Chronicle, rebutting in strong terms the claim that Knowles was editor of the Contemporary Review.
Author:
Alexander Strahan [Alexander Stuart Strahan] (1833-1918), English publisher [Sir James Thomas Knowles (1831-1908); Alfred Tennyson]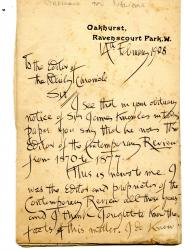 Publication details:
14 February 1908; on letterhead of Oakhurst, Ravenscourt Park, W.
SKU: 8103
12mo (17.5 x 11 cm): 5 pp. On two bifolium letterheads and half of a third. The text of each page is clear and complete on aged and lightly-spotted paper, but gaps between the various sections indicate that the draft is incomplete. Begins 'Sir | I see that in your obituary notice of Sir James Knowles inn today's paper you say that he was the Editor of the Contemporary Review from 1870 to 1877. | This is news to me. I was the Editor and proprietor of the Contemporary Review all these years, and I think I ought to know the facts of the matter. I do know them, and declare the statement of your contributor to be a "worn-out falsehood".' He quotes from a letter he wrote to The Times contradicting the assertion, published on 16 January 1877. He quotes from several sources repeating the claim, before continuing 'When a lie has got a good start, as this one undoubtedly has, it is difficult, if not impossible, to catch it up. Yet it may, perhaps, serve some good purpose, if I state in the fewest possible words, how I became acquainted with Mr. Knowles, what were our relations to each other, and why we parted company.' Explains how 'one day a stranger [i.e. Knowles] came into my office, and presented a letter of introduction from Mr Tennyson, whose works I was then publishing.' Quotes in full the letter, which states that Knowles 'has a hankering after literature, and is specially desirous of being initiated into the mysteries of editing.' Tennyson will be glad if Strahan, 'to whom the secret seems to have been revealed, can put Knowles in the way of getting the experience he desires'. While Knowles's entry in the Oxford DNB has him as editor of the Contemporary Review between 1870 and 1877, Strahan's entry in the same work states that although he 'made extensive use, in advertisements, of the names of his editors, in fact he was primarily responsible for conducting the periodicals.' The Tennyson letter is not in Lang and Shannon. Srebrnik's biography of Strahan does not provide a clear account of the tangled history of the matter.
Phone enquries
RICHARD M. FORD
Tel: +44 20 8993 1235