List of the Annual Volumes of the Ray Society. From their Commencement, in 1844, to December, 1901.
Author:
The Ray Society [John Ray; natural history]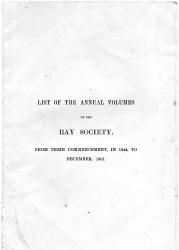 Publication details:
[1901?] Printed by Adlard and Son, Bartholomew Close, E.C.; 20, Hanover Square, W. and Dorking.
SKU: 8231
8vo: 16 pp. Stapled pamphlet. Nothing other than the title printed on the first leaf. Text paginated [19] to 31, with publisher's slug on reverse of last leaf. On aged and creased paper, with 6 cm closed tear at central crease of outer bifolium. No copies of this title on COPAC or WorldCat.
Phone enquries
RICHARD M. FORD
Tel: +44 20 8993 1235