Autograph Letter Signed ('Philip H. Calderon') to the Committee of Education, Queen's College, Harley Street.
Author:
Philip Hermogenes Calderon (1833-1898), RA, English painter of Franco-Spanish parentage [Walter F. Stocks]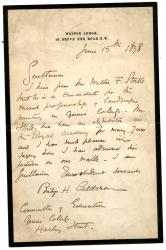 Publication details:
15 June 1898; on letterhead of Weston Lodge, 16 Grove End Road, London NW.
SKU: 9328
12mo, 1 p. Ten lines. Clear and complete. On bifolium with mourning border. Fair, on aged and discoloured paper. Endorsing the application of Walter F. Stocks for 'the vacant professorship of landscape painting in Queen's College'. Stocks 'has been an exhibitor at the Royal Academy for many years' and Calderon 'has admired his paintings on our walls'.
Phone enquries
RICHARD M. FORD
Tel: +44 20 8993 1235